Teshima Art Museum in early summer
June 11th, 2012 | Posted by in
Architecture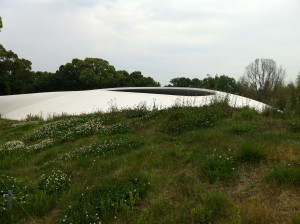 I've been to the museum several times already. This time, let me share how the Teshima Art Museum in early summer looked. This is from my latest job to the island and other places nearby.
White clovers were in bloom on the premises of the museum. The white wild flowers, the terraced rice paddies nearby and the museum buildings were harmonious.  
The inner space of the museum stretches row and horizontal, making it different from common domes. The artwork inside collaborating with the architecture and nature is philosophical and contemplative. You should see this whether you are interested in architecture or not. 
Seasons come around and it seems to be an endless journey we're living but nothing stays the same and all are transient. That's the way all things are.
You can follow any responses to this entry through the RSS 2.0 Both comments and pings are currently closed.