Enjoy the Inland Sea and its islands via an outdoor experience!
Shimanami Kaido Cycling Route spans 70 km (42 miles) from Onomichi in Hiroshima Prefecture across the Inland Sea to Imabari in Ehime prefecture, crossing six islands and seven bridges. It is great fun to travel by bike hopping from lovely island to island and past hills full of orange trees. Bridges along the route provide stunning views of the Inland Sea.
 "Shimanami Special Tour" starts from Ikuchijima, the third island (from Onomichi) and finishes at Itoyama on Shikoku, passing through 4 islands and several different bridges. The total distance is 40km. The route is well prepared and we go at a moderate speed. Please come and join us to try the most incredible cycling route in Japan!
We also offer shorter, more leisurely and relaxing tours (Tour 1, 2, 3A, 3B, 3C) visiting local tourist spots, popular restaurants and sweet shops. You can feel the life and tradition of the people of the Inland Sea. Let's enjoy together!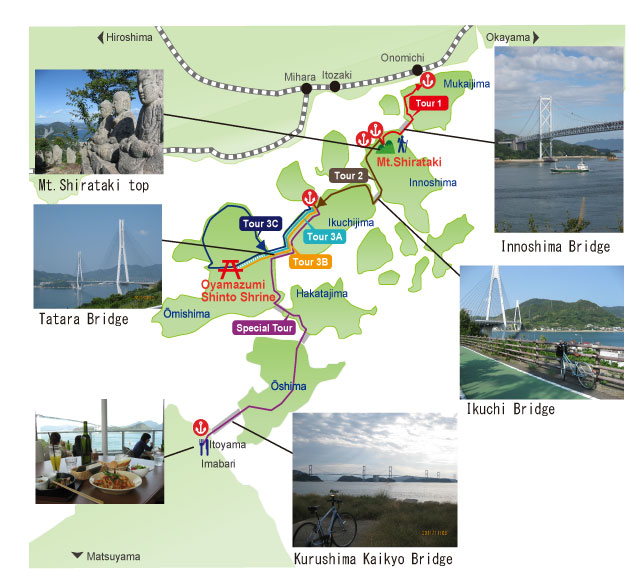 Short Distance Tours
[ Tour 1 ] (17km) Mt. Shirataki Hiking & Cycling from Innoshima , Mukaishima to Onomichi
[ Tour 2 ] (17km) Mt. Shirataki Hiking & Cycling from Innoshima to Ikuchijima
[ Tour 3A ] (20km) Cycling from Ikuchijima to Omishima & Visit Oyamazumi Shinto Shrine by bus (round trip)
Middle Distance Tours
[ Tour 3B ] (35km) Cycling from Ikuchijima to Omishima & Visit Oyamazumi Shinto Shrine
[ Tour 3C ] (45km) Cycling from Ikuchijima to Omishima & Visit Oyamazumi Shinto Shrine
Special Tour
[ Shimanami Special Tour ] (40km)
Reservation & Inquiry:

Guide Profile:
| | |
| --- | --- |
| | Hi, travelers, I'm Sachi Sakamoto, a licensed tour guide. I hail from eastern Hiroshima Prefecture where there are lots of wonderful places to see. "Tomo-no-Ura" is a beautiful small historical port town where time has stood still for hundreds of years. And then there's the "Shimanami cycling road," the most picturesque cycling road in all of Japan. It spans right across the Seto Inland Sea and the panoramic view from the magnificent bridges and islands are simply breathtaking. Come and enjoy the calm blue sea, the gentle breeze and the exquisitely warm and friendly atmosphere of these truly unique destinations. |