Private Guided Tour
Itsukushima Shrine & Town Walk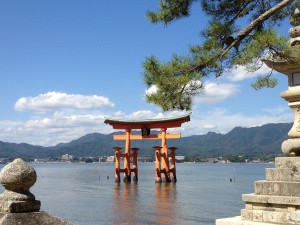 Itsukushima Shrine is so famous, but Miyajima is much more than that. Join the tour to discover an unknown Miyajima, a sacred island with a long history of 1400 years. You will hear in-depth stories of the island while visiting the famous shrine, the nature and the maze-like town of Miyajima. We'd like to show you to our favorite places.
A private guided tour in English to Itsukushima Shrine,
 the nature and the maze-like town of Miyajima
 and a short tea break with a momiji-manju cake
Tour Date:
Daily (Please contact us for available days.)
Tour Fee:
Guide Fee:     ¥12,000 ( 1 person)   ¥15,000 (2-5 persons)   ¥16,000 (6 persons)
                         ¥17,000 (7 persons)     ¥18,000 (8 persons)   ¥19,000( 9 persons)   ¥20,000 (10 persons)
           + Admission to Itsukushima Shrine: JP¥300 (This includes a short tea break with a Japanese cake.)
                                                                                            * If you have more than 10 people, please contact us.
Duration:
Approx. 3 hours
Meeting Time & Place:
10:00 am or 2:00 pm at the Miyajima ferry terminal
    ★ If you have requests for a particular meeting time, we will be happy to arrange the schedule.
             We can also arrange one-day walking tour if you like. (Additional fee is needed.)
To get to the meeting point:
Miyajima ferry terminal is located on Miyajima Island. Take a ferry from Miyajima-guchi for about 10 minutes. (To go to Miyajima-guchi, it takes about 30 minutes by JR train from Hiroshima Station or about one hour by No.2 streetcar from Genbaku Domu Mae near Peace Memorial Park.)
There is also a direct boat service from Peace Park to Miyajima.  It takes about 45 minutes, cruising down the river and sailing across Hiroshima Bay to Miyajima. Please check the "World Heritage Course."
Note:
* Comfortable shoes are recommended.
Reservation & Inquiry:

Guide Profile:
Welcome to Miyajima!

Team Miyajima is a group of national licensed guides who LOVE Miyajima. The more we learn about Miyajima, the more we fall in love with this island.

If you want to explore this beautiful island to your heart's content, please join our walking tour. We believe this will be a highlight of your visit to Japan.

We look forward to seeing you in Miyajima!

Please visit our blog.    http://miyawalk.exblog.jp/
News
                                             The clear summer sky really matches well with this vermillion Torii Gate.

                                               When the tide becomes lower, a lot of people go down to the beach and

                                               bathe their feet in the water.  The best way to escape from the summer heat!!

                                                    This nice lady and her handsome son from Oregon also enjoyed walking

                                                      in the sea  near Torii Gate.

                                                                      

                                                       Thank you for a nice meeting, James!!

                                                  Please come back again with your wife and kids.

                                                   This is an old well dug by a priest more than 200 years ago.

                                                    He devoted his life to make people in Miyajima happier and wealthier.

                                                    Behihd the well is a small shrine dedicated to this priest, Seishin.

                                        I like walking off the beaten path with my guests talking about various things about Miyajima.

                                                An American lady, Jamie,  used to live in Japan and she is a big fan of Japan!!

                                                    She looked very happy to find another favorite place in Miyajima.