Private Guided Tour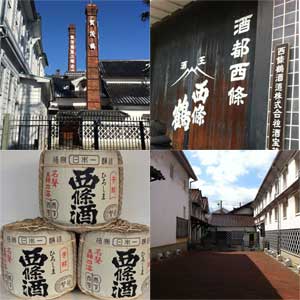 Saijo is readily accessible from Hiroshima Station. Take east-bound Sanyo Line about 35 minutes to go to JR Saijo St. The streets near the station along which several sake breweries stand are collectively called Sakagura-dori or Sake Brewery Street. It's a happy surprise to see a group of breweries nestled so close to each other. Join a guided walking tour and taste refined sake and clear water essential for sake making at several breweries. Sampling sake is basically free of charge and you can bring back water for sake making in your bottles and it doesn't cost a yen! Cafes and stores with local colors are also fun to explore.
Closing time:
Please register for the tour by 05:00 pm two days before the tour. Tour availability and booking has to be confirmed by the guide after your registration email.
Tour Date:
Daily
Tour Fee for the party:
¥12,000 (1 person)   ¥15,000 (2-5 persons)
¥16,000 (6 persons)    ¥17,000 (7 persons)
¥18,000 (8 persons)   ¥19,000 (9 persons)   ¥20,000 (10 persons)
* Please pay the tour fee in cash on the tour day. Please prepare the exact amount.
Duration:
Up to 3 hours
Meeting Time & Point:
09:30 am at JR Saijo Station ticket gate
  or
01:00 pm at JR Saijo Station ticket gate
Finishing Time & Point:
12:30 pm at JR Saijo Station
  or
04:00 pm at JR Saijo Station
How to get to the Meeting Point by train:
Take Sanyō Line from JR Hiroshima to JR Saijo. (JP¥580) 
Cancellations:
Cancellation fee is not charged. Please make sure to notify the guide if you would like to cancel the tour.
Notes:
*Allow enough time to purchase train tickets because JR Hiroshima Station can be very crowded.
*Guide cannot be responsible for any accident, loss, or damage caused by guests, other parties, or force majeure during the tour.
* Please prepare the exact amount and pay in cash on the tour day.
* Tour will be canceled in case of inappropriate weather or in the event of force majeure.
* Prepare cash in yen for shopping.
* Feel free to inquire via email for quick response sent from guide's iPhone.
* See Saijo Sake's official web site at http://saijosake.com/
Reservation & Inquiry: