Cafe in Hakata-jima
July 10th, 2012 | Posted by in
Shimanami4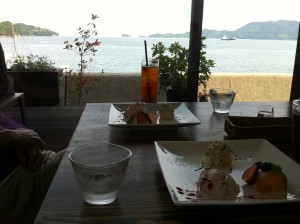 Cake and drink or light food can be tasted at this cafe if you join Tour 4 and the tour progress allows.
The store stands right next to the sea. Cyclists coming to this store frequently park their bikes not in front of the store but between the back of the store and the sea embankment. That way the bikes can be left without locking because only customers come there and the bikes should be totally safe.
Their cake and drinks including espresso, grape juice, etc. are very tasty.It really helps to have a place like this for having a break on the cycling route. 
This time we went there for a bit of research and review in preparation for the coming tour, and of course for our personal pleasure.
We sat on the embankment, looking at the map and figuring out which island was what; also talked on the miscellaneous. We felt as if we were visiting our grandma's place at a seaside. It was like a summer holiday we had when we were at high school. Oh well, it's been quite a while but our mind can travel quickly back to the past and the past is clear and vivid.
Posted by jasmine, a reporter and photographer for Shimanami tours. 
You can follow any responses to this entry through the RSS 2.0 Both comments and pings are currently closed.